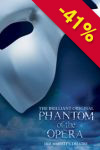 Phantom of the Opera
Her Majesty's Theatre
Pris fra 285 kr
Phantom of the Opera er musikalen over alle musikaler og en ren glede for musikkelskere. Andrew Lloyd Webbers mesterverk feiret sitt 25-års jubileum i 2011, og fortsetter å fengsle publikum på Her Majesty's Theatre i Londons West End, etter mer enn 11.000 forestillinger.
Høydepunkter:
- Sikre deg billetter til denne publikumsfavoritten
- Velg dine egne plasser
- Opplev denne musikalske klassikeren som har vunnet over 50 priser
- Utrolig scenografi og spesialeffekter
- Man-fre kan du ofte spare på billetter hvis du bestiller på nettet
Hva handler The Phantom of the Opera om?
Phantom of the Opera er basert på en klassisk fransk thriller om et skremmende og myteomspunnet spøkelse, som hjemsøker det gamle franske operahuset og forelsker seg i en ung og vakker skuespillere.
Visste du dette om Phantom of the Opera?
The Phantom of the Opera er et musikalfenomen med noe av den mest ekstravagante scenografi, kostymer og spesialeffekter noen sinne brukt på en scene. Stykket hadde sin verdenspremiere i London den 9. oktober 1986, og siden den gang har den blitt spilt over 11.000 ganger på Her Majesty's Theatre i London. Rundt om i verden har Phantom of the Opera blitt vist i over 90 byer, og musikalen har vunnet over 50 priser!
Andre klassiske musikaler som spilles i London: Les Miserables
Hvordan får jeg billettene mine?
Kort etter at bestillingen er fullført mottar du e-billetten din via e-post. Skriv den ut og ta den med til teatret.
Hvem er musikalen egnet til?
Phantom of the Opera passer til folk flest, både hyppige musikalgjengere og folk som besøker teatret for aller første gang. Musikalen egner seg ikke til små barn, da visse scener er skumle - musikalen handler tross alt om Operafantomet. Anbefalt aldersgrense er 10 år, og barn under 5 år har ikke adgang til forestillingen.
Hvor lenge varer musikalen?
The Phantom of the Opera varer ca. 2 timer og 30 minutter inkl. pause.
Hvem er teamet bak?
Den verdensberømte engelske komponisten Andrew Lloyd Webber står bak denne musikalproduksjonen. Harold Prince regisserer og Cameron Mackintosh produserer.
Viktig informasjon:
- Vær oppmerksom på: Sidene av Grand Circle har begrenset utsikt over sidene. Baksiden av Stalls og Royal Circle er begrenset av overhenget.
Phantom of the Opera Reviews
"Soaring ballads and sensational stage effects."
The Daily Telegraph
---
Phantom of the Opera Pressemelding
MAJOR CAST CHANGES IN THE SMASH HIT ANDREW LLOYD WEBBER MUSICAL "THE PHANTOM OF THE OPERA" AT HER MAJESTY'S THEATRE IN LONDON! EARL CARPENTER TO RETURN TO THE ROLE OF 'THE PHANTOM' FROM MONDAY 12 ...
Les mer