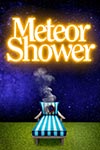 Meteor Shower
Booth Theatre
Pris fra 1471 kr
Meteor Shower is a new comedy by Steve Martin, directed by Jerry Zaks and starring Amy Schumer, Keegan-Michael Key, Laura Benanti and Alan Tudyk.

Highlights:
- Secure your tickets to Meteor Shower
- Experience Amy Schumer live on stage
- Get the best seats available

Meteor Shower starring Amy Schumer
It's a hot night in Ojai, California, and Corky and her husband Norm are having another couple over for dinner. But Laura and Gerald aren't looking for a casual evening of polite small talk with new friends.

Eventually, the two couples find themselves in a marital free-fall matched in velocity and peril only by the smoldering space rocks tearing through the sky.

Entertaining has never been more entertaining than in this "cosmic comedy from the master of the American absurd" (Variety).

How do I get my tickets?
Shortly after your order is complete, you will receive an e-ticket to the email address entered at time of booking. Please print out your ticket and bring it with you to the theater.